Title: Never Always Sometimes
Author: Adi Alsaid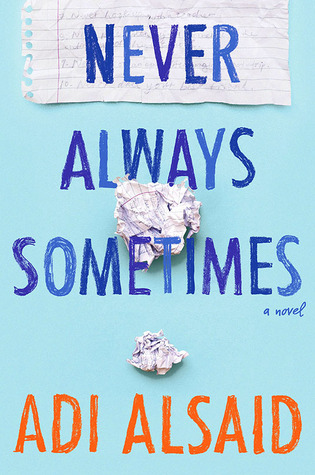 Best friends Dave and Julia were determined to never be cliché high school kids—the ones who sit at the same lunch table every day, dissecting the drama from homeroom and plotting their campaigns for prom king and queen. They even wrote their own Never List of everything they vowed they'd never, ever do in high school.

Some of the rules have been easy to follow, like #5, never die your hair a color of the rainbow, or #7, never hook up with a teacher. But Dave has a secret: he's broken rule #8, never pine silently after someone for the entirety of high school. It's either that or break rule #10, never date your best friend. Dave has loved Julia for as long as he can remember.

Julia is beautiful, wild and impetuous. So when she suggests they do every Never on the list, Dave is happy to play along. He even dyes his hair an unfortunate shade of green. It starts as a joke, but then a funny thing happens: Dave and Julia discover that by skipping the clichés, they've actually been missing out on high school. And maybe even on love.
__________________________
It's always fun to read about best friends, don't you think? Something about it transports me to my happy place and that's where I like to be when I read.
This is actually my first time reading one of Adi Alsaid's books but he's funny on Facebook and I thought it was time to try one out.
At first I was a little bit put off by it. Something in Julia's excessively trying to be quirky and Dave's complete willingness to go along with everything she said. But then they warmed on me and I understood this odd couple better.
I ended up loving the turns the story took on. I am so glad for them too because it shows that maybe we need time and growth to realize what we really want, especially when we are seventeen.
Perfect ending. I couldn't agree more with the way things turned out. I saw it coming and I wanted it. At the end I knew it was the best for the characters I got to loved through the pages so I'm happy and glad I read this one. Don't pass it.