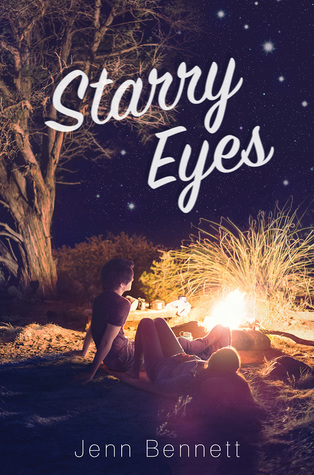 Title: Starry Eyes
Author: Jenn Bennett
Published April 3rd 2018 by Simon Pulse
Add On Goodreads
____________________________________
I found this book browsing the nominees for the Goodreads Choice Awards. Normally, the awards tend to be just a popularity contest, but with this book I have no doubt that the majority of its readers actually voted for it because they loved it.
Because I loved it too. So much. It embodies every single thing I used to love about Young Adult literature. Smart characters who grow into awesome people, fun new experiences, the drama of becoming their ownselves. I enjoyed every minute of this book and it filled me with hope that not everything is lost for Contemporary YA.
The story is about a couple of best friends who go through bad circumstances (a failed Great Experiment) and end up becoming sort of "enemies". Zorie is a young girl obsessed with planets and stars, and Lennon is a reptile lover, punk rocker, Bear Grylls-extraordinaire. I love them to bits. They both reminded me so much of myself when I was a teenager, stressed and confused but also always trying to move forward. The author got it so right.
I also appreciated how quick and intense the book was, filled with awesome scenes both in the city and the wilderness that had me on the edge of my seat. And don't even get me started on all the amazing side characters and their own nail-biting stories, like Joy's marriage or Mac's teenaged homelessness. I thought everything added an extra depth to an already brilliant story.
I can't recommend this enough. This book is already on a straight path into my favorites. Even now writing a review about it, I can't help but smile, reminiscing how great it was. Loved it.