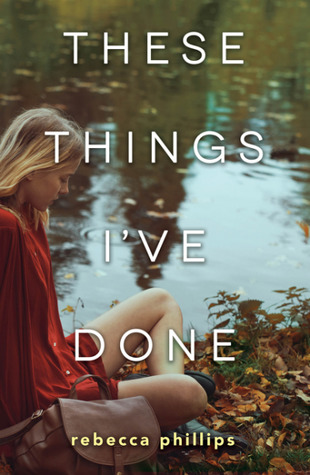 Title; These Things I've Done
Author: Rebecca Phillips
Published August 1st 2017 by HarperTeen
___________________________
I've been starving for some contemporary jewel this year. So far this has probably been the busiest year of my life so far (and that's saying a lot) and I have read a whooping 4 books so far--and it's friggin April.
So I was desperately needing some good quality story to get me out of my funk. These Things I've Done turned out to be the miracle I was hoping for.
I didn't even expect it. I haven't even read a blurb for the book so I was on a blind date. It's so shocking to realize you are so compatible with your blind date (not that I have ever been on a blind date before, mind you) that I am still trying to make sense about what happened.
The book is about a tragic accident where a girl named Aubrey died. It's about the very different and heartbreaking ways the people closest to her, her best friend Dara and her brother Ethan, deal with it.
I saw someone comparing it to In Honor, which has sort of a very similar plot, but I disagree. I thought These Things I've Done was deeper, sadder and more realistic. I actually felt sad about Aubrey dying, which *never* happens. I mean, I am usually very aware that this is only a book and no one died, but this time I got sad anyway. I tend to find flashbacks annoying and repetitive, but in this book I really enjoyed them, and they made me care.
I was so happy about Dara, Aubrey and Ethan and their odd three-way friendship. I was literally so invested. Then I was devastated to learn that a friendship so awesome had crumbled apart so easily.
I loved Dara. She was such a likable protagonist, vulnerable with a side of fierceness. I loved her before, as that fearless girl who loved adrenaline, but I also loved her as a broken, sensitive kid who is full of guilt and confussion. Here's a hug for you Dara: *hug*.
And don't even get me started on Ethan, who handled things so perfectly, so maturely. He's a huge reason why this novel works so well.
Anyhow. I loved this novel. You can't change my mind about it. It's been put on my "read again" shelf. And you should try it too!