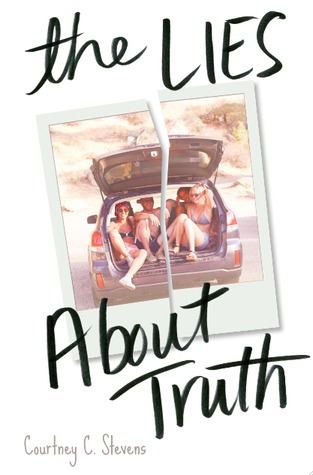 Title. The Lies About Truth
Author. Courtney C. Stevens
Expected publication: November 3rd 2015 by HarperTeen
From Goodreads.
Sadie Kingston, is a girl living in the aftermath. A year after surviving a car accident that killed her friend Trent and left her body and face scarred, she can't move forward. The only person who seems to understand her is Trent's brother, Max.




As Sadie begins to fall for Max, she's unsure if she is truly healed enough to be with him — even if Max is able to look at her scars and not shy away. But when the truth about the accident and subsequent events comes to light, Sadie has to decide if she can embrace the future or if she'll always be trapped in the past.
This is the story of a group of friends who fell apart after a horrible accident that killed one of them and scarred another two. Like you can expect, this is not the sunniest story out there, and that's exactly why I picked it up.
I enjoyed the book; Sadie was a good main character, her journey through accepting her new condition, her scarred face and body, it was all so sad and hard to witness. I liked that she was real, and that her feelings and actions weren't sugar coated and instead portrayed in a realistic way. Or at least the way I thought a previously healthy and beautiful teenager deals with her new scarred appearance.
Sometimes I thought the book went a bit slow. This mainly because the truth about the "secret" gets dragged for most of the book. And when it finally gets revealed I don't think it made a lot of sense. Maybe because we didn't really get to know the character who the secret was about, so I don't think I cared much.
It was a story of acceptance and forgiveness. The accident broke more than Sadie's spirits, it broke a life long friendship and a couple of romantic relationships. It wasn't the smoothest ride over all those bumps, either. At times a bit slow, at times a bit expected, all the time worth reading.