Title: What's Broken Between Us
Author: Alexis Bass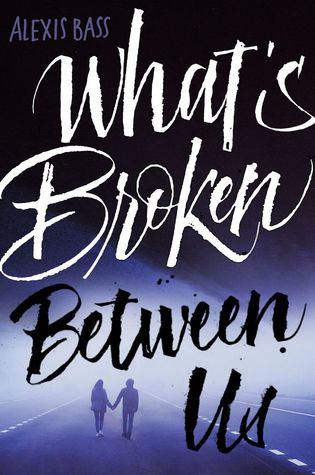 From Goodreads:
Tragedy struck Amanda Tart's town a year and a half ago when a sophomore girl was killed in a car accident on graduation night.
Amanda's brother, Jonathan, was behind the wheel and too drunk to drive. He's spent the past year in prison and has cut off all ties. But now Jonathan is coming home. Just as Amanda's trying to figure out what that means for her family and herself, she's paired up for a school project with Henry Crane—a former crush, and brother of Jonathan's ex-girlfriend, who survived the crash with horrible injuries.

Everyone is still incredibly damaged by the events of that night. Can Amanda and Henry finally begin to heal what's broken and find some peace?
_______________________________________
What's broken between us is a novel set in the aftermath of a tragic accident. One that will hopefully instilled in you the message of never drunk driving.
Amanda's brother Jonathan was always the popular one, the liked one, the life of the party; until he drove drunk with his girlfriend Sutton and her best friend Grace, and had an accident where Grace died.

It was really heart breaking to witness how hard everything was for Amanda. She can't grieve for the girl properly because everyone will judge her, but at the same time she can't help but be glad her brother is alive, even if he's not the same as he was before prison. And to complicate things, the feelings she used to have for Sutton's brother Henry have come barreling forward again and everything is turned into a mess of anger and sadness.

I breezed trough this novel so quickly. It was so easy to, because it was intense and gripping, I had to knew what was next. I loved the way all the feelings were so dutifully explained, it made it impossible for me not to be emotionally invested in the fate of all the characters. It was real and truthful. And the ending made perfect sense in a way that was hard to witness but easy to accept. A great read for me.