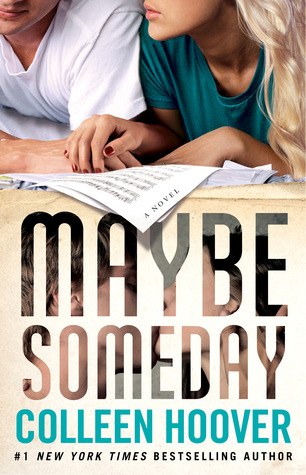 Title: Maybe Someday
Author: Colleen Hoover
Published March 18th 2014 by Atria Books
Genre: New Adult, Contemporary
Goodreads
|
Amazon
|
_______________________________________
I didn't know what to expect when I started Maybe Someday. It's because I've heard some much and yet so little about it, for the various reviews I knew it was great but I also didn't really know anything about the story that went on. It was a leap of faith.

I'm glad I took it because it paid off. The whole aspect of the book is that it combines musicality with prose. A new way of enjoying a story. I made sure I could listen to the songs at the same time I read the book so I could have the whole experience. And it added so much! It felt even more intense even though I tell you, the book was intense enough without the heartbreak of the songs.

I am a fan of contemporary lit and I have pretty much reading anything and everything yet I didn't expect that particular thing with the male protagonist, not in a book where music plays such an important part. But it made the whole thing seem deeper and more beautiful that I could have hoped.

I adored the story and the plot. I liked the characters well enough to invest my emotions in their lives, however I was a bit uncomfortable with the, I don't want to say cheating but it kind of is, that goes on. Sydney and Ridge made so much sense as a couple that I didn't really think there was a need to be put in a situation like that, but I guess that's real life for you. But it really bothered me and made me lose a little faith on these characters.

Some scenes were so completely perfect and beautiful, and the writing was fabulous, my only concern was that I didn't really buy the romance. Because the whole thing wasn't fair to Ridge's girlfriend and because Sydney knew how that felt and still kept on going, despite her conflicted feelings. That's the only thing that ruins the book for me.

I have to say I enjoyed it anyway. Specially the songs. And the emotions they evoked in me and how perfectly the fit in the story.