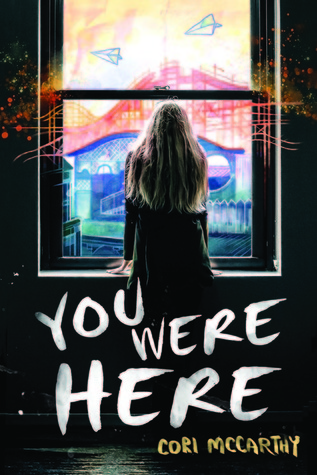 Title: You Were Here
Author; Cori McCarthy
Expected publication:
March 1st 2016 by Sourcebooks Fire
Goodreads . Amazon
____________________________
First of all I want to point out that this novel is multicultural. Yes, you read that right so let's all give a big round of applause... keep going because it deserves it…
Okay that's enough, thank you.
So I sort of, kind of knew a little bit about what this story was about before I started it. I knew it was about a girl grieving her late brother in some rather dangerous ways. That's all I knew and that was enough to make me go, "yes! I need this!"
But like the song goes, if I had known then what I know now, I would have been ten times more excited because I think this just became my favorite novel of the year. You read that right, my favorite novel I read in 2015 (though is published in 2016) I loved it. I LOVED IT. I wasn't expecting so much more than just a tragedy, but it was MUCH MORE. The tragedy was just a vehicle for living and forgiving and finding love and reconnecting with new friends.
I loved that the story was told in five different points of view, from each of the five friends that made the story what it is. It never felt confusing or unrealistic, it was unique and it made me understand each of them and loved them individually. It added so much instead of taking away. I loved that they all had a different way to show me who they were. Cori did a fantastic job with these POV, I can't tell you how impressive it was how she managed to keep all the characters true to themselves and honest enough for me to care about and enjoy.
And that's just the writing. The setting was a whole other monster. I loved each different place she took her story to. I loved the graphic detail that took me there. Then there was the fun. This novel was so fun--sad, too, and crazy, and funny and romantic-- but fun above all. It reminded of one of my favorite books, Grafitti Moon by Cath Crowley for those interested, and that's always a good thing.
It was amazing, even now, weeks after I first read it, it makes me crack a smile just to remember everything that happened.
Now excuse me while I'm off to get me a physical copy of this one.
It's one for keeps, folks. One to reread.