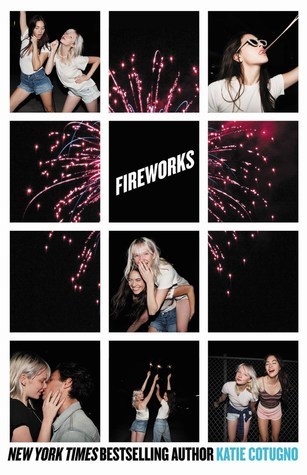 Title: Fireworks
Author: Katie Cotugno
Expected publication: April 18th 2017
by HarperCollins/Balzer + Bray
GOODREADS / AMAZON
___________________________
I have a love/hate relationship with Katie Cotugno. I love her books but I hate that I do. I hate it because she writes about everything I hate, like love triangles or siblings fighting or best friends falling out and all that stuff that makes me sad.
I don't like that I enjoy everything she writes even though her stories tear me apart. But I keep coming, like a dumb moth to a flame.
I grabbed an ARC of Fireworks as soon as I saw it, without knowing anything about it. Zero knowledge about the story except that it was written about Cotugno and apparently that was enough.
Now onto business. Honestly, I enjoyed every second of this book. From the fact that it was set in the 90's, to the fact that it was about girl bands and boy bands (that makes it larger than life, you know?) it was all so bloody entertaining.
It's been a while since I have been this invested in a story but from the moment I met Dana Cartwright, the heroine*, I was a goner. I loved the girl to bits, I rooted for her every step of the way. She was so well crafted that she felt like a real, live person who shared the same sentiments of self-doubt and fear that I felt--that everyone feels at eighteen.
But like every time I invest myself on a Katie Cotugno story, I got my heart broken again. Yes, I did. But somehow it's starting to feel less like a painful hole in my chest and more like learning.
This book was amazing, I swear. I don't even know what I can say (that I haven't already) to make you try it. It has the perfect amount of living the dream and staying grounded, of friends and enemies, of love and heartbreak. I loved every second and I hope you do too.
*Heroine indeed. I would have kicked something in a rage induced madness.