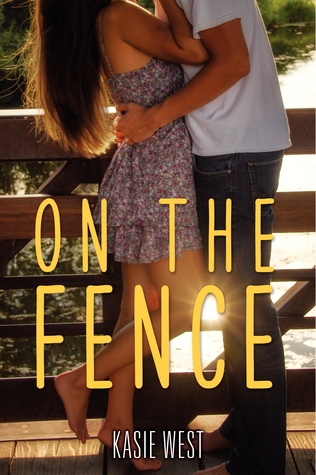 Title: On The Fence
Author:Kasie West
Expected publication: July 1st 2014 by HarperTeen
Genre: YA contemporary
Goodreads
|
Amazon
|
____________________________________
I am completely in love with Kasie West and her ability to write the most adorable stories. So far I have loved every single one of the books she has ever put out. So I was beyond curious to see if she would do it again, and she totally did!

On The Fence delivered. It was a cute story that went beyond fluffy, summery writing but still didn't take itself too seriously. It featured West's now signature style of amazing, relatable heroines and a supporting cast that was more than just added secondary characters, to the point that you learned everyone's name and cared for their individual stories.

I loved Charlie. She was the strongest of the whole book to me, just so easy to like and her point of view made the book completely captivating and hilarious. I loved the dynamics between her and her brothers. They made one of the cutest sibling relationships I have ever read. And I love that Charlie was going through a lot of self doubt but she was still confident in what she loved, like sports and hanging out with the guys and not one of those insecure, whiny girls that wonder why the world doesn't love them. She definitely strung at my heart cords because I have also felt insecure about how I look, much like her I am tall and even though I am no jock I hit the gym often and I sometimes feel so big standing beside all my petite friends; and all this only made me feel more connected to her and her story.

And I loved each of her brothers and their different personalities too. And of course her dad was a sweetheart so I loved each time he awkwardly tried to teach Charlie any girl stuff, it was hysterical. And don't get me started on Braden, who was just so perfect with how he wanted Charlie to be with someone who appreciated who she really was. Le sigh.

The story with Charlie's mom was an unexpected depth that added a lot to an otherwise cute story, I really liked that. But don't think this book isn't hilarious too, it is! It has been reaffirmed that West has joined my list of Contemporary queens. Loved it.