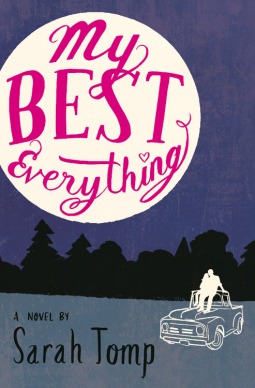 Title: My Best Everything
Author: Sarah Tomp
Young Adult Contemporary
Published March 3rd 2015 by Little, Brown Books for Young Readers
Goodreads | Amazon
| The Book Depository
________________________________________________
Unexpected. Brilliant. There are quite a few adjectives that come to mind after reading 'My Best Everything' but I don't plan on writing them all and use all my space. Instead I want to tell you how amazing this story will make you feel.
Lulu's idea of selling moonshine to furnish her way to college. She is a smart girl in a small town; we've seen it before, right? Not like this. Never like this. Because Lulu is about to find out she is smart, but not in the way she always thought.
So she enlists the help of her best friend Roni and her boyfriend Bucky, who she has known all her life, and of course the mysterious, older bad boy Mason. And it all goes downhill from here (or uphill, depending on how you see it) because you can't predict the future, just like you can't predict if moonshine is going to turn out to be poison. It's a ride.
I loved this book. So much heart, so poetic and emotional. But funny and charming, too. A thrill ride.
I can't tell you enough good things about this book. Suddenly I couldn't handle all the feels and I was back to that place I love about YA. If I were you I wouldn't worry of where I am going right now, as long as I have this book with me.