Title: Dumplin
Author: Julie Murphy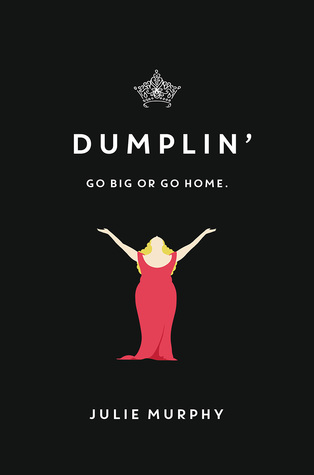 From Goodreads:
Self-proclaimed fat girl Willowdean Dickson (dubbed "Dumplin'" by her former beauty queen mom) has always been at home in her own skin. Her thoughts on having the ultimate bikini body? Put a bikini on your body. With her all-American beauty best friend, Ellen, by her side, things have always worked . . . until Will takes a job at Harpy's, the local fast-food joint. There she meets Private School Bo, a hot former jock. Will isn't surprised to find herself attracted to Bo. But she is surprised when he seems to like her back.

Instead of finding new heights of self-assurance in her relationship with Bo, Will starts to doubt herself. So she sets out to take back her confidence by doing the most horrifying thing she can imagine: entering the Miss Clover City beauty pageant—along with several other unlikely candidates—to show the world that she deserves to be up there as much as any twiggy girl does. Along the way, she'll shock the hell out of Clover City—and maybe herself most of all.
________________________________________________
I thought I wasn't going to read anything else by Julie Murphy after I read her debut novel, then I read this book synopsis and I just knew I couldn't forgive myself if I missed it. I am so glad I got past my initial reservations because this one pretty much rocks.

Dumplin' is much more than a book about a fat girl entering a pageant. It's about all of us girls (and I'm guessing guys too) having the same insecurities. Like when you're perfectly okay with your body until you start to think what others think of it.

Murphy was eloquent and real, and she doesn't apologize for writing the truth and you and I probably have no idea how much that means for the world, especially the Young Adult world.

I'm trying to make you read it in the hopes you will find it as amazing and enlightening as I did but really, even if you just read it for the heck of it, you're in for a fun-filled day of Dolly Parton and Texas Unconventional but Every-Bit-Deserving beauty Queens.