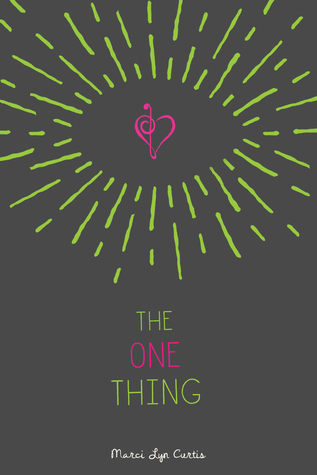 Title: The One Thing
Author: Marci Lyn Curtis
Expected publication: September 8th 2015 by Disney-Hyperion
From Goodreads:
Maggie Sanders might be blind, but she won't invite anyone to her pity party. Ever since losing her sight six months ago, Maggie's rebellious streak has taken on a life of its own, culminating with an elaborate school prank. Maggie called it genius. The judge called it illegal.




Now Maggie has a probation officer. But she isn't interested in rehabilitation, not when she's still mourning the loss of her professional-soccer dreams, and furious at her so-called friends, who lost interest in her as soon as she could no longer lead the team to victory.




Then Maggie's whole world is turned upside down. Somehow, incredibly, she can see again. But only one person: Ben, a precocious ten-year-old unlike anyone she's ever met.Ben's life isn't easy, but he doesn't see limits, only possibilities. After awhile, Maggie starts to realize that losing her sight doesn't have to mean losing everything she dreamed of. Even if what she's currently dreaming of is Mason Milton, the infuriatingly attractive lead singer of Maggie's new favorite band, who just happens to be Ben's brother.




But when she learns the real reason she can see Ben, Maggie must find the courage to face a once-unimaginable future... before she loses everything she has grown to love.
So what's your thing? The One Thing that makes you the happiest?
Mine is easy, it would be reading amazing books. And I am thrilled to inform you that this is one of them.
I had the most magical experience reading this novel. I don't even know what to say about it right now so I don't spoil it for everyone else, just that it was fabulous. I mean is not everyday you find a book that is mainly focused on the relationship between a seventeen year old blind girl and a semi-paralyzed ten year old boy. That alone makes me want to grab the book and read it again, to remind myself of how incredibly beautiful and funny and heartbreaking and uplifting it was.
To me, it is Maggie and Ben's relationship that completely made the book. They were the best pair of mismatched friends I have ever read. But that's not to say I didn't appreciate, and LOVED other aspects of the book. Like Maggie's grandpa, Gramps, who takes her granddaughter to Target and then abandons her at the Feminine Products aisle and talks to her about his swollen prostate. And Ben's mom, who welcomes strangers to her home with bear hugs and saves stray animals. And of course, Ben's brother Mason, lead singer of Maggie's favorite band, reformed bad boy and Ben's biggest cheerleader.
I loved everything about this book that even now writing this makes me want to go back and read it again. If only just for Ben, and his incredibly bright soul, his awkward question and his larger than life personality. He calls Maggie his girlfriend the first time he meets her, he was a ten in my eyes right in that moment. And Maggie, with her dark humor and sarcastic personality that doesn't hide her soft heart and her struggle to cope with her new vulnerability. She went from soccer goddess to a friendless blind kid. My heart swelled for her. That's why my favorite part was the first half, when Ben and Maggie's friendship blossoms.
The second half was harder. If only because of it deals with all the difficult issues that were swept under the rug before. Especially the twist. I found it hard to understand both Maggie and Mason's reactions after that, but I guess I wouldn't know what to make about it either.
In the end I think this was an excellent read. I haven't been so enthralled in a novel in months, and this one awoke me and shook me and practically kicked me out of my reading stupor and reminded me that YA is full of magical surprises.