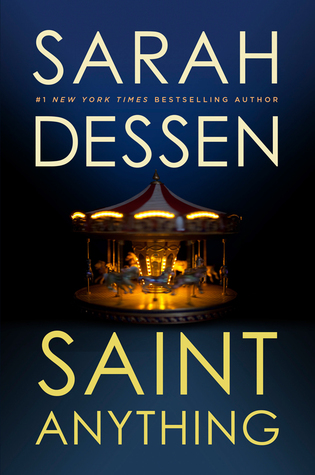 Title. Saint Anything
Author. Sarah Dessen
Published May 5th 2015 by Viking Juvenile
From Goodreads.
Peyton, Sydney's charismatic older brother, has always been the star of the family, receiving the lion's share of their parents' attention and—lately—concern. When Peyton's increasingly reckless behavior culminates in an accident, a drunk driving conviction, and a jail sentence, Sydney is cast adrift, searching for her place in the family and the world. When everyone else is so worried about Peyton, is she the only one concerned about the victim of the accident?




Enter the Chathams, a warm, chaotic family who run a pizza parlor, play bluegrass on weekends, and pitch in to care for their mother, who has multiple sclerosis. Here Sydney experiences unquestioning acceptance. And here she meets Mac, gentle, watchful, and protective, who makes Sydney feel seen, really seen, for the first time.




The uber-popular Sarah Dessen explores her signature themes of family, self-discovery, and change in her twelfth novel, sure to delight her legions of fans.
First of all, let me get it off my chest,
Before I read it I thought it was a play on words about...
But it wasn't. But the reason why it is called this is even more awesome (if possible).
I've missed Sarah Dessen.
That's what I first thought as I read the first few chapters. I've forgotten how she always manages to make a story seem easy, relatable. Her main characters are always so easy to like, to root for. Saint Anything was not different.
I can't pinpoint what exactly makes her stories so magical but that's undeniable. Saint Anything trapped me. In a world where Sydney was perfect on the outside (and pretty much on the inside too, I know I would have thrown plenty of fits if I were in her place) yet very vulnerable, it made you instantly love her.
Then came the Chathams, especially Layla and Mac, who were the most amazing, most welcoming family Dessen has ever written (possibly). I loved them and their chamadery. I loved that they had a pizzeria. I loved everything about them.
I am trying to remember if there Dessen has ever written a boy as shy as Mac. I can't remember (it's been a lot of books and a lot of boys) but I absolutely adored that Mac was the shy one for once. He grew up being overweight his whole life and now with a recent healthier body he is kind of apprehensive of people (no blame). He was absolutely perfect and adorable.
And as much this is 2015, and this is a new, different story, it still felt familiar, like seeing your childhood best friend again and realizing you missed them more than you noticed. I loved to read this, Sarah, my old pal. Thanks for forever bringing me reading pleasure, circa 2007.